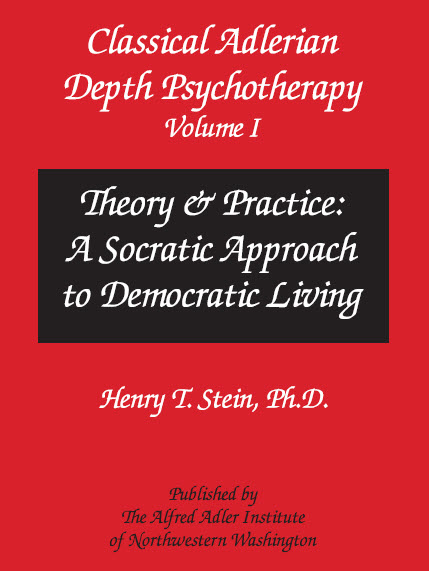 Books
Written by Henry Stein
* Classical Adlerian Depth Psychotherapy: Volume I: Theory
& Practice: A Socratic Approach to Democratic Living
* Classical Adlerian Depth Psychotherapy: Volume II:
Creative Case Analysis: Uncovering the Fictional Final
Goal and the Counter-Fiction That Hides It
* Classical Adlerian Depth Psychotherapy: Volume III:
Demonstrations of Therapeutic Technique


* Classical Adlerian Depth Psychotherapy: Volume IV:
Child & Family Therapy

Written by Alfred Adler, Edited by Henry Stein
* A Clinician's Guide to The Collected Clinical Works
of Alfred Adler
* The Collected Clinical Works of Alfred Adler: 12-Volume Set
* CCWAA: Volume 1 - The Neurotic Character
* CCWAA: Volume 2 - Journal Articles: 1898-1909
* CCWAA: Volume 3 - Journal Articles: 1910-1913
* CCWAA: Volume 4 - Journal Articles: 1914-1920
* CCWAA: Volume 5 - Journal Articles: 1921-1926
* CCWAA: Volume 6 - Journal Articles: 1927-1931
* CCWAA: Volume 7 - Journal Articles: 1931-1937
* CCWAA: Volume 8 - Lectures to Physicians and Medical
Students
* CCWAA: Volume 9 - Case Histories
* CCWAA: Volume 10 - Case Readings and Demonstrations
* CCWAA: Volume 11 - Education for Prevention
* CCWAA: Volume 12 - The General System of Individual
Psychology

Written by Adler & Other Classical Adlerians,
Edited by Henry Stein
* Classical Adlerian Brief Therapy: The Innovative
Techniques of Anthony Bruck
* Educating Children for Cooperation and Contribution:
Volume I, by Alfred Adler
* Educating Children for Cooperation and Contribution:
Volume II:, by Anthony Bruck & Alfred Adler
* You Shall be a Blessing, by Alexander Mueller

By Adele Davidson
* The Collected Works of Lydia Sicher: An Adlerian
Perspective, Edited by Adele Davidson


Reviews
* Reviews of CADP, Volume I: "A Socratic Approach to
Democratic Living." (Click on reviewer's name.)
James Wolf, M.S, CAMFT Therapist, 2014.
Dyanne Pienkowski M.A, NASAP Journal, 2014. and
Charles A. Simpkins, Ph.D., Milton H. Erickson Newsletter,
2017.
* Review of "The Collected Clinical Works of Alfred Adler,
12 Volumes." Erik Mansager, Ph.D, NASAP Journal, 2015.


Theme Packs
* Theme Packs on Selected Topics (14 Titles may be purchased individually.)


Videos
* Training of a Classical Adlerian Depth Psychotherapist:
Sophia de Vries Interviewed by Henry Stein





Back to Home Page