General Resources

Featured Content:
* Development of CADP Training
and the Collected Clinical Works of Alfred Adler
* Review of the Collected
Clinical Works of Alfred Adler
* Journal of Indiv. Psych.
Special Issue on CADP
* Fictions, Counter-Fictions
& Magic in Psychotherapy
* An Adlerian Study
of Marilyn Monroe
* Creative Power:
Catalyst for Change

Basic Principles:
Personality Theory
Philosophy of Living
Striving For Significance
Feeling of Community
Style of Life
Birth Order
Theory of Psychopathology
Maslow's Hierarchy of Needs

Modes of Treatment
Individual Psychotherapy
Socratic Method
Couple Therapy
Child & Family Therapy
Group & Marathon Therapy
Brief Therapy
Substance Abuse Treatment
Career Assessment
Organizational Consulting

Education for Prevention
Parent Education
Teacher Education

Biographies & Photos
Alfred Adler Biography
Alfred Adler - Photos
Other Classical Adlerians

General Reading
Theory
Practice
Miscellaneous
Humor

Materials to Purchase
Books
Theme Packs
Video & Audio

Video Clips
About Adler, Sicher, & Mueller

Other Resources
Dr. Stein's Blog
Discussion Forum

Mail List:
Join Mail List
Translate this page: (tap the language link) Italian, German, French, Spanish, Japanese, Chinese, Greek, Hebrew, Russian, Danish, Arabic, Finnish, Romanian, Dutch, Swedish
Reviews of Book on CADP: "A Socratic Approach to Democratic Living."
James Wolf, M.S, CAMFT Therapist, 2014,
Dyanne Pienkowski M.A, NASAP Journal, 2014, and
Charles A. Simpkins, Ph.D., Milton H. Erickson Newsletter, 2017.
(tap reviewer name for link.)
Review of "The Collected Clinical Works of Alfred Adler, 12 Volumes."
Erik Mansager, Ph.D, NASAP Journal, 2015
"Adler and Maslow in Collaboration: Applied Therapeutic Creativity"
Erik Mansager, Ph.D. and Marina Bluvshstein, Ph.D.
Journal of Humanistic Psychology, Winter, 2017.
New Certified Training Analyst
in Classical Adlerian Depth Psychotherapy
Erik Mansager, Ph.D.
(On left) Erik Mansager, Ph.D.; (on right) Henry Stein, Ph.D., Director of AAINW.
For more information about CADP distance training, available anywhere in the world,
go to the CADP Distance Training page.
---
New Books on Classical Adlerian Psychotherapy
Using Adler's unabridged, original theory, Dr. Stein offers a twelve-stage model of treatment that clarifies the tasks and techniques needed to facilitate cognitive, affective, and behavioral change, including the Socratic method, guided and eidetic imagery, and role-playing.
The ultimate aims of Classical Adlerian Depth Psychotherapy (CADP) are to expand the feeling of community and to dissolve the components of the self-limiting style of life: the unconscious, fictional final goal; counter-fiction; and inferiority feeling. This liberation unleashes the individual's creative power, widening his psychological horizon toward Adler's vision of optimal development and the self-actualization described by Abraham Maslow.
The text includes online access to seven full-size, full-color graphic charts which illustrate the dynamics and interrelationships of major theoretical constructs.
This book is for clinicians, instructors, and students who wish to learn the full depth and scope of a holistic, therapeutic approach based on Adler's original warm, gentle, diplomatic style of treatment. For more information, go to www.Adlerian.us/cadp-v1.htm.


To discover and understand the uniqueness of each client, the Classical Adlerian approach uses all of Alfred Adler's theoretical constructs in the search to uncover the personality nucleus: the fictional final goal and the counter-fiction that hides it. Dr. Stein provides a comprehensive overview of Adler's concept of psychological movement, essential to interpreting the client's thinking, feeling, and behavior in relation to life tasks.
An exploration of the creative diagnostic process includes the influence of brain dominance, feeling tone theory, and qualitative data analysis. Strategies are suggested for gathering, organizing, visualizing, expanding, analyzing, and synthesizing case information, leading to a comprehensive life style analysis. Adler's vision of optimal development and Abraham Maslow's ideal of self-actualization guide the formation of treatment planning.
Seven case summaries present examples of life style analysis and treatment strategies. Appendices include graphic illustrations of the diagnostic process and the provocative article, "Fictions, Counter-Fictions, and Magic," describing our neurological susceptibility to deception. For more information, go to www.Adlerian.us/cadp-v2.htm

Bringing the principles of theory and practice to life is a challenging task. Although we have a fully articulated theory, a general blueprint for therapeutic progress, and a variety of techniques to stimulate cognitive, affective, and behavioral change, the actual experience of CADP requires a different experience for each client, matching his uniqueness with our customized inventions for encouraging positive, socially useful change. Consequently, we have no "by the numbers" procedures that we repeat; however, beneath our improvisations lies an underlying structure that can always be explained after the fact.
&nbspPart One includes demonstrations of the Socratic Method, the Missing Developmental Experience (MDE), Eidetic Imagery, and role-playing, followed by debriefing with the audience. Part Two consists of a series of role-played demonstrations that give the flavor of the different stages of CADP. We compress the potential progress of psychotherapy into a "twelve-act play." Part Three provides a transcription of work with a client that illustrates several creative interventions. For more information, go to www.Adlerian.us/cadp-v3.htm.
---
Review of the Collected Clinical Works of Alfred Adler
by Erik Mansager, Ph.D.,

Published in the Journal of Individual Psychology, Vol. 71, No. 3, Fall 20015.
---
Basic Principles
of Classical Adlerian Psychology
Alfred Adler (1870-1937) developed the first holistic theory of personality, psychopathology, and psychotherapy that was intimately connected to a humanistic philosophy of living. His lectures and books for the general public are characterized by common sense. His clinical books and journal articles reveal an uncommon understanding of mental disorder, deep insight into the art of healing, and inspiration for encouraging optimal human development. Adler's cre principles are as follows.
Unity of the Individual
Thinking, feeling, emotion, and behavior can only be understood as subordinated to the individual's consistent pattern of dealing with his "style of life." The individual is not internally divided or the battleground of conflicting forces; each aspect of the personality points in the same direction.
Goal Orientation
One central personality dynamic originates from the growth and forward movement of life itself. It is a future-oriented striving toward a goal of significance, superiority, or success. In mental health, it is a realistic goal of socially useful significance or superiority over difficulties; in mental disorder, it is an unrealistic goal of exaggerated significance or superiority over others. The early childhood feeling of inferiority, for which we aim to compensate, leads to the creation of a fictional final goal which subjectively seems to promise future security and success. The depth of the inferiority feeling usually determines the height of the goal which then becomes the "final cause" of behavior patterns.
Self-Determination and Uniqueness
The goal may be influenced by hereditary and cultural factors, but it ultimately springs from the creative power of the individual, and is consequently unique. Usually, individuals are not fully aware of their goal. Through the analysis of birth order, repeated coping patterns, and earliest memories, the psychotherapist infers the goal as a working hypothesis.
Social Context
As an indivisible whole, a system, the human being is also a part of larger wholes or systems--the family, the community, all of humanity, our planet, the cosmos. In these contexts, we meet the three important life tasks: occupation, love and sex, and friendship--all social challenges. Our way of responding to our first social system, the family constellation, may become the prototype of our world view and attitude toward life.
The Feeling of Community
Each human being has the capacity for learning to live in harmony with society. This innate potential for social connectedness has to be consciously developed. Social interest and feeling imply "social improvement," quite different from conformity, leaving room for social innovation even through cultural resistance or rebellion. The feeling of genuine security is rooted in a deep sense of belonging and embeddedness within the stream of social evolution.
Mental Health
A feeling of human connectedness and a willingness to develop oneself fully through contribution to the welfare of others are the main criteria of mental health. When these qualities are underdeveloped, feelings of inferiority may haunt an individual, or an attitude of superiority may antagonize others. Consequently, the unconscious fictional goal will be self-centered and emotionally or materially exploit other people. When the feeling of connectedness and the willingness to contribute are stronger, a feeling of equality emerges, and the individual's goal will be self-transcending and beneficial to others.
Treatment
Classical Adlerian individual psychotherapy, brief therapy, couple therapy, and family therapy follow parallel paths. Clients are encouraged to overcome their feelings of insecurity, develop deeper feelings of connectedness, and redirect their striving for significance into more socially beneficial directions. Through a respectful Socratic dialogue, they are challenged to correct mistaken assumptions, attitudes, behaviors and feelings about themselves and the world. Constant encouragement stimulates clients to attempt what was previously felt as impossible. The growth of confidence, pride, and gratification leads to a greater desire and ability to cooperate. The objective of therapy is to replace exaggerated self-protection, self-enhancement, and self-indulgence with courageous social contribution.
Expanded Implications
of Classical Adlerian Psychology
A Socially Responsible Psychology for Today
Most psychologies were designed to relieve distress and promote psychological well-being; Alfred Adler went even further. Stressing our essential interdependence, he believed that psychology could be used to improve the quality of life for everyone, and that true happiness and security result only from useful contribution to others. Adler's philosophy of living, pedagogy, and psychotherapy form a coherent approach to socially responsible, therapeutic improvement. His core belief in social equality provides a solid foundation for democratic living.
Discover a Deeper Understanding of Each Individual
Grasping the uniqueness of each individual cannot be achieved with elaborate symptom descriptions and categorizations, or with simplistic typologies. Adler created a palette of psychological constructs that can yield an artistic, revealing portrait of each individual, as well as a blueprint for healing and growth. He made it possible to relieve and heal hidden inferiority feelings; uncover and dissolve an unconscious, fictional goal; clarify and correct dichotomized thinking; convert private logic to common sense; and overcome chronic discouragement. Most psychologies give some general insight and encouragement; Adler offers unique depth and precision.
Correcting Common Misconceptions About Adlerian Theory and Practice
Although Adler achieved world-wide recognition during his lifetime, after his death in 1937 an accurate influence of his ideas in the United States diminished, largely due to the limited number of his translated clinical works; misrepresentations of his theory, philosophy, and therapeutic style in academic texts; and authors who attempted to simplify and systematize his teachings. Many clinicians have read Adler's popular writings, but few have studied his clinical works. Some have attempted to lift pieces of Adler's theory and fit them into an eclectic framework, which defeats the purpose of his integrated vision. Adler's style of treatment was warm, gentle, and creative, not cool, aggressive, and systematic. The therapist's personality and attitude must be fully congruent with Adler's philosophy. Clinicians, instructors, and authors who deviate really promote their own approach.
Why Do We Use the Term "Classical Adlerian"?
Dilutions and deviations by other authors have misled students into believing that there are a number of equally valid varieties of "Adlerian" approaches. The Classical Adlerian approach is rooted in Adler's original teachings and style of treatment. Our work is also influenced by other early Adlerians who remained faithful to Adler's teachings and therapeutic style: Lydia Sicher, Alexander Mueller, Sophia de Vries, and Anthony Bruck. To retain Adler's rich legacy, we have edited and published a 12-volume set of The Collected Clinical Works of Alfred Adler; offer mentor-oriented distance training in Classical Adlerian Depth Psychotherapy; and have maintained a web site, discussion forum, and mailing list since 1996. Back in the mid-1950's, Alexander Mueller predicted that "Adler will have to be re-discovered, from the roots up, by a future generation." We have accepted this challenge.
Adler & Maslow: Partners in Self-Actualization
Alfred Adler and Abraham Maslow were devoted to optimal human development. Similar to Adler, Maslow articulated the common attributes of self-actualizing individuals. He emphasized the pre-requisites of hard work, dedication to a worthy cause, and overcoming psychological limitations. Some of his ideas drifted into a business community hungry for greater productivity. Although Maslow's vision of self-actualization does not fit most approaches to psychotherapy, it complements Classical Adlerian Depth Psychotherapy. Adler and Maslow inspire us with their rare, optimistic vision of what each of us can become.
Full Range of Therapeutic & Educational Interventions
The Classical Adlerian approach provides a fully integrated range of treatment modes: Individual, Adult, Depth Psychotherapy; Couple Therapy; Child and Family Therapy; Brief Therapy; Substance Abuse Treatment; Career Assessment & Guidance; and Organizational Consulting. Parent and Teacher Education Workshops, taught by trained therapists, provide effective educational strategies for prevention.
Distance Training & Certification
We offer professional training leading to certification, featuring a one-to-one, mentor relationship with weekly study and telephone discussions. In addition to a vigorous study of theory and practice, the program includes a personal study-analysis with a senior Classical Adlerian training analyst and individual case supervision. Fully certified Classical Adlerian Depth Psychotherapists are currently located in Bellingham, Washington; San Francisco, Berkeley, Redwood City, and Oroville, California; Clearfield, Utah; Elizabethtown, and Ottawa, Canada; Feldberg, Germany; Taipei, Taiwan; Morges, Switzerland; and Turin, Italy.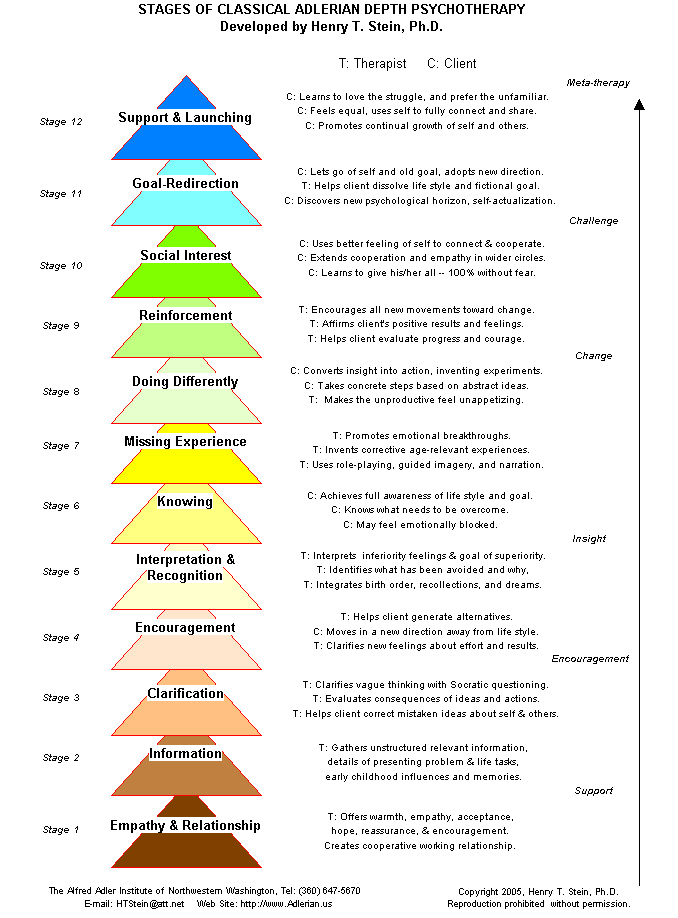 For additional information, contact:
Henry T. Stein, Ph.D., Director & Senior Training Analyst
Alfred Adler Institute of Northwestern Washington
2565 Mayflower Lane
Bellingham, WA 98226
TeL: (360) 647-5670 E-mail: htstein@att.net
Professional Resources

Experiential Workshop
* August 3-5, 2018
in Bellingham, WA

Distance Training
* Certification in CADP:
Classical Adlerian
Depth Psychotherapy
* Special Focus: Substance
Abuse Treatment & CADP
An Integration of SAT With
Classical Adlerian Depth
Psychotherapy
* Advanced Certification as
a Training Analyst:
Classical Adlerian
Depth Psychotherapy

Study & Research
* The Collected Clinical
Works of Alfred Adler
12-Volume Set

Subscription Resources
* Online Book:
"A Clinician's Guide to
The Collected Clinical
Works of Alfred Adler"

* Video Demonstration &
Discussion of Classical
Adlerian Brief Therapy"

* Video & Audio Clips of
Adler, Sicher, & Bruck
* Theme Packs (15 Topics)
* Graphics Illustrating
Major Concepts
* Transcribed Demonstrations
* Unpublished Articles
& Lectures
* Complete Online Books
by Alfred Adler
Your subscription will help fund the ongoing Classical Adlerian Translation Project, dedicated to publishing the works of Classical Adlerians.